Enlarge text
A
A
A
Library and Events
family movie night at the library

Families are invited to the Grand Marais Public Library for the showing of the Walt Disney Production of IRON WILL on Saturday, January 21, 2017 at 6:00 p.m.
The uplifting true-life story of courage, determination and triumph! Much of the film was shot on location in northern Minnesota 24 years ago.
In 1917, Will Stoneman's (Mackenzie Astin) father is killed in a mushing accident falling into a frozen river, leaving Will to care for his family. Needing money for college and to save the family farm in South Dakota, Will decides to travel to Winnipeg, Canada. Here he will take part in the dog-sled race that his father would have entered to save the farm. Although his mother initially objects, she eventually relents. The race is from Winnipeg to Saint Paul, Minnesota. With the aid of Ned Dodd (August Schellenberg), the young man prepares both physically and mentally for the harsh weather and terrain throughout the race.
Join us for this wild adventure!
---

The Grand Marais Public Library Board of Trustees needs you!
There are opportunities for both city and county residents to join the Library Board. Applications may be picked up at the Library, City Hall or the County Courthouse.
(Alternatively, you may apply online.)
City: Go to the city web page,
www.ci.grand-marais.mn.us
and click on the left hand tab for Job Postings & Board / Commission Applications.
The direct link is:
www.ci.grand-marais.mn.us/index.asp?SEC=01D93270-C633-49DB-A55C-9C374F6B54F3&DE=BFE5A29B-1C24-40AC-90EB-34846476A3D3&Type=B_JOB
County: Go to the county web page, www.co.cook.mn.us, under Your Government select Boards & Commissions, and click on the link for Current Board and Commission Vacancies.
The direct link is:
www.co.cook.mn.us/2016site/index.php/countygov/2016-04-05-16-02-22/current-openings
---

winter wednesdays series
THERE'S AN EAGLE IN THE LIBRARY!
The Raptor Center from the University of Minnesota presents "The Raptors of Minnesota" at the Grand Marais Public Library on Wednesday, January 25, at 6:00PM.
This program explores the different raptors found in Minnesota and their role in the environment. Participants learn the three key features of all raptors and learn why they are different from other birds. Presenters discuss the positive and negative impact humans have on our environment, and participants are inspired by some of our greatest environmental success stories, such as the peregrine falcon and the bald eagle. Finally, information is provided about The Raptor Center and its important role in protecting raptors and the world we share. Everyone may leave feeling inspired and empowered, having learned specific things they can do to help protect raptors and the environment.
This program is underwritten by the Library Friends of Cook County. Everyone is invited to attend.
---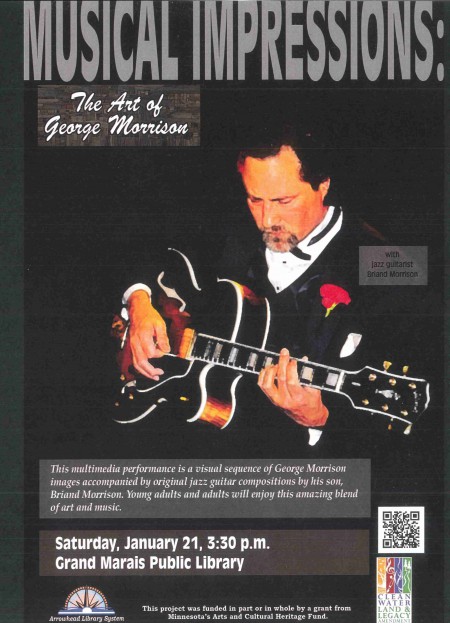 This multimedia performance is a visual sequence of George Morrison images accompanied by original jazz guitar compositions by his son, Briand Morrison. Young adults and adults will enjoy this amazing blend of art and music.
Morrison was surrounded by all styles of music as a child. His life changed when he heard Joe Pass, Portraits of Duke Ellington. That was when Morrison realized jazz Could be played on a guitar. Morrison played through college, playing jazz in coffee houses. He now entertains crowds with his new Blues/Rock act that is reminiscent of a Hendrix, Stevie Ray, Allman Bros., early Eric Clapton sound-a refined 60s/70s style with a flavorful chord or two utilizing a looper, drum machine, and some vocal.
Morrison wrote twelve compositions that accompany the 128 images of George Morrison paintings and his drawings. Some of these images have never been shown to the public. The works re from all periods, from the 1940s through his death in 2000.
This program, sponsored by Arrowhead Library System, was funded in part or in whole with money from Minnesota's Arts and Cultural Heritage Fund.
---
winter reading program
Paul Bunyan's Big Read runs January 3, 2017 through February 28, 2017. Pick up program supplies in January. Kids can choose timed reading logs or book title logs to participate. Upon completion kids can pick a free book. Everyone is invited to sign up for the book prize drawing for
The Bunyans
by Audrey Wood.
Tuesday morning pre-school storytimes are at 10:30 a.m. beginning January 10 and continue through February 28.
Check out what's happening at your library this winter!
---
Winter Wednesday nights at GMPl
The Grand Marais Public Library is pleased to again offer a winter events series on Wednesday nights beginning January 4, and running for 10 weeks. Each event is scheduled to begin at 6:00 p.m.
Everyone is invited to attend. Family friendly events have been marked with an asterisk.
The remaining schedule for the series is:
January 25 *There's a Bald Eagle in the Library! – Minnesota Raptor Center
February 1 *Minnesota's Winter Storms – John Silliman
February 8 Here I Am After All – Mary Beams
February 15 *Bagpipes – Peter Mack
February 22 Medicinal Plants – Tim White
March 1 Grand Portage Arts & Crafts History – Bob Swanson
March 8 Consumers Driving the Food Industry Bus – Hartley Acero
---

2017 friday night reels line-up!
All movies start at 6:00 p.m.
January 20
WHISKEY TANGO FOXTROT
Tina Fey plays a journalist in Afghanistan. Seriously humorous, from the journalist's taste for adventure into the realities of reporting the truth. You expect comedy; the story takes your mind elsewhere.
January 27
CREED
Rocky Balboa is trainer and mentor to Adonis Johnson, son of the late Apollo Creed. Starring Michael B. Jordan, Sylvester Stallone, Tessa Thompson. This film gained wide recognition on the festival circuit.
February 3
INDIGNATION
Marcus, a working-class Jewish student, attends a small Ohio college, where he struggles with sexual repression and cultural disaffection during the Korean War era. Based on a Phillip Roth story.
February 10
BLUSH
17-year-old Naama spends her free time partying in hope of escaping her parents' constant bickering. When a new girl shows up, Naama falls in love. The intensity confuses her and gives life new meaning.
February 17
A HOLOGRAM FOR THE KING
Ironic and touching story of a businessman finding love and purpose in Saudi Arabia. "It had this extravagant emptiness, yet beneath the vast empty spaces and relationships was a lush and complex culture".
February 24
THE LIGHT BETWEEN OCEANS
Australia, post WW1, lighthouse keeper couple find a baby washed ashore in a lifeboat. Story of love, hope and a fateful choice. Based upon the critically acclaimed first novel by M L Stedman.
March 3
THE ARDENNES.
Brothers Dave and Kenneth are reunited on Kenneth's release from prison. While Kenneth is anxious to return to old ways, both Dave and Kenneth's erstwhile girlfriend, Sylvie, have adopted clean lifestyles. Drugs, crime and the bonds of brotherhood create this dark crime thriller journey.
March 10
HELL OR HIGH WATER
A divorced father and his ex-con brother resort to a desperate scheme to save their family's west-Texas ranch. Stars Ben Foster, Chris Pine, Jeff Bridges make a nuanced film from a by-the-book heist plot.
---

grand marais public library gets 5 stars in 2016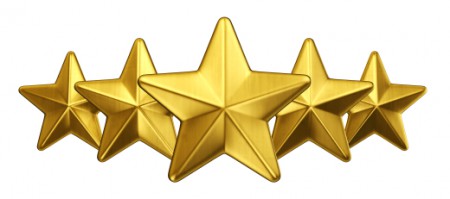 The
Library Journal congratulates the 2016 Star Libraries
!
---
MYSTERY MEDICINAL PLANTS AT LIBRARY

Beginning October 10, and running each week for 10 weeks, a "mystery" medicinal plant will be featured at the Library. Library visitors will have the opportunity to make a guess at what they think the plant might be, then to look in a related folder to reveal the answer and additional related information. Native plants will predominate, but not all featured species will be native. Most will be familiar, though they may not be easily recognized.
Local musher Tim White will share his expertise with herbal medicines in a program at the Grand Marais Public Library. In early 2017, White will present a program at the library featuring all the included plants and their medicinal uses. Watch the library calendar for more details as to the date and time.
---
If you would like to submit a book review please e-mail Steve at
steve.harsin@alslib.info
---
21 famous authors share their favorites
Mental_floss
---
The Most Dangerous Book: the battle for James Joyce's Ulysses
Book Review
by Yvonne Caruthers
---
book review
Steve Harsin, library director, has an interesting group of books: self- published ebooks which became so popular they decided to publish them as bound books. I am reading one now,
Not Dead in the Heart of Dixie
, by R.M. Kralik.
If you would like to submit a book review please e-mail Steve at gmlib@arrowhead.lib.mn.us.
---
---